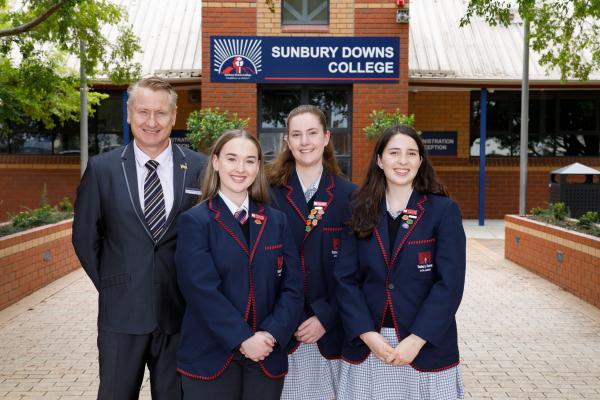 Sunbury Downs College is an ever-growing co-educational school with extremely capable and professional staff and a wide range of subjects for students to choose from.
With approximately 700 students, Sunbury Downs College offers VCE as well as Vocational Education and Training (VET) and Victorian Certificate of Applied Learning (VCAL) programs to suit a wide variety of students' needs.
"Our curriculum program has a strong emphasis on each of the eight domain areas: English, Mathematics, Science, Humanities, Visual and Performing Arts, Technology, Languages (Italian) and Physical Education and Health," says college Principal Warwick Beynon.
The college is also the only secondary school in the region to offer an Accelerated Curriculum and Enrichment (ACE) program for academically gifted students, extending their skills and abilities across a challenging curriculum with the possibility of an early introduction to VCE.
With a strong focus on student health and wellbeing, Sunbury Downs College is proactively taking steps toward supporting students in an accessible and comfortable environment, with the introduction of a part-time mental health professional in late 2020.
"We have a student wellbeing team that includes a full-time youth worker, a college chaplain for pastoral care, a team leader and an adolescent health school nurse on site two days per week," says Principal Beynon.
"Our Learning Support team and Inclusion Coordinator also advocate and support students, whilst teams of teachers work in collaboration with school staff to provide a learning environment that embraces and supports individual student needs."
The school also offers a wide range of extracurricular activities and an interschool sporting program. With year level and specialised camps and excursions, including an overseas Italian Study Tour, students have a huge range of opportunities to discover their passion at Sunbury Downs College.
"I recommend contact with the school to obtain further information, and I look forward to many more joining our community," concludes Principal Beynon.
Sunbury Downs College is located at 148-174 Mitchells Lane, Sunbury. For more information or to book a tour, visit www.sunburydowns.vic.com.au or phone (03) 9744 0500.