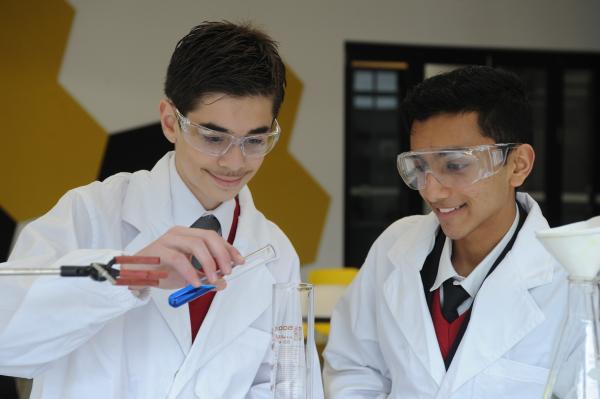 Caroline Chisholm Catholic College offers multiple pathways and opportunities for its students to achieve academic success in a range of areas.
This includes the Aspire program at Years 7 to 9, a wide subject range in VCE, VET and VCAL and the college's Encore music program. An Advanced Learning Program (ALP) at Years 10 to 11 allows students to excel, with some students able to complete a university unit in Year 12.
Aspire: Years 7 to 9
Aspire enables dedicated and high-achieving students to be challenged, providing a pathway that meets their specific needs.
The program is designed for students who share a particular passion for and commitment to learning, have exceptional abilities across multiple disciplines and are highly motivated to reach their full potential.
Aspire students can be working 6-12 months ahead of students not in the program and are encouraged to go on to VCE and university subjects ahead of schedule.
Aspire students learn through:
• Investigation, inquiry and higher-order thinking
• Authentic tasks that involve real-world learning and problem solving
• Links with international stakeholders and networking
• Team teaching
• Development of a folio of learning
• Peer assessment
• External competitions and experiences
Aspire is accessed by invitation on the basis of academic testing and an application process in Grade 6.
Year 10
Year 10 is designed to strengthen students' ability to plan their future pathways with a structure that allows flexibility and choice in a wide range of core and elective subjects. Select students can extend their learning and study Victorian Certificate of Education (VCE) and Vocational Education and Training (VET) subjects at Year 10.
VCE, VCAL and VET
The College offers more than 50 VCE subjects at Years 11 and 12. Academically inclined students can study university subjects while still at school.
The Victorian Certificate of Applied Learning (VCAL) is an alternative pathway which runs parallel to the VCE. A hands-on option for Year 11 and 12 students, it provides practical, work-related experiences. The robust VCAL program is supported by dedicated teachers and collaboration partnerships.
Also offered are Vocational Educational and Training (VET) units, designed to deliver workplace specific skills and knowledge based-competencies. Students undertaking VET units can gain a nationally recognised qualification and achieve credits towards completion of their VCE or VCAL program.
Students have the chance to study VET units off-campus at local registered training organisations such as TAFEs, universities or another secondary college.
Music
Caroline Chisholm Catholic College believes that learning to play an instrument and appreciating music is important for all students. The school's courses are designed to give students a meaningful and fulfilling introduction to the art of performing, listening and composing.
Learning a musical instrument has been shown to improve academic achievement, problem solving skills, communication skills, self-management, memory and teamwork skills.
Along with its extensive music program, which includes classroom music, instrumental music lessons as well as ensemble and band opportunities, the college also offers students a specialised Encore program that runs for two years, beginning in Year 7. This is a unique program that allows students who already learn or have learnt an instrument to focus on learning an orchestral instrument, being tutored by specialist music teachers on their selected instruments.
Caroline Chisholm Catholic College is located at 65 & 204 Churchill Avenue, Braybrook. For more information, phone (03) 9296 5311 or visit www.cccc.vic.edu.au