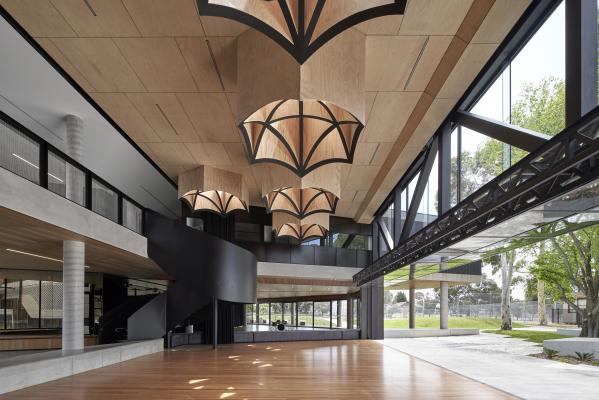 Caroline Chisholm Catholic College is a co-educational secondary college in Melbourne's inner-west that is dedicated to schooling excellence in an engaged, faith-filled and inclusive environment.
The College believes in the dignity of every student, accepting them for who they are and where they're at, embracing their gifts and talents, nurturing them and giving them every chance to be the best they are called to be. The College caters for all students, whether their gifts or talents are academic, artistic or their interests be in the trades, or in out-of-classroom areas such as sports and social justice.
The junior campuses operate as single-sex Years 7 to 9, while the senior campus is co-educational from Years 10 to 12 catering for the full suite of pathways available to students.
In 2020, VCE College results for the year were in line with the state averages, with 37 students receiving ATAR scores of 80+. The College Dux and Promixe Accessit achieved an ATAR of 98.7 and 98.5 respectively. They also achieved perfect 50/50 Study Scores in System Engineering and Sociology. Whilst students achieve excellent academic success, the College is also committed to providing a holistic education that caters to all student needs.
The College offers a number of extension programs including international exchanges with schools in Japan and Italy, accelerated educational and enrichment programs including Aspire for gifted students in Years 7 to 9; Encore and a specialised selected Music program. Caroline Chisholm Catholic College also partners with Australian Catholic University (ACU), enabling Year 12 students to study tertiary subjects in their final year at school.
The College enjoys world-class facilities including state-of-the-art science labs, an indoor swimming pool, an 800-seat auditorium, two libraries, a wholly owned outdoor education site in Meredith and a new Arts Centre – the St Madeleine Centre – at its junior girls' campus, Christ the King. The College will open its new multi-purpose hall in late 2021 which will accommodate a growing staff and student body, providing a space for entire College gatherings.
The wellbeing of students is central to their schooling experience at the College. All programs are fully resourced and represent a high priority to promote the personal, psychological and emotional growth of our young people.
The pillars of the College – Faith, Acceptance, Compassion and Excellence (FACE) – ensure each student is a known and valued member of the College's inclusive multicultural community.
Call the College on 9296 5311 or email admissions@cccc.vic.edu.au to organise a personalised tour.
Caroline Chisholm Catholic College, 65 & 204 Churchill Avenue, Braybrook.