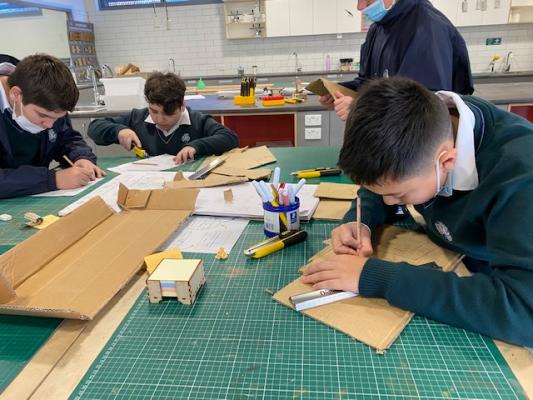 Will all the jobs be replaced in the future by robots and computers?
This is a common question students have as they observe the changing world around them. Being in the midst of the fourth industrial revolution can be scary for young adults whose future career aspects are unclear. However, not everything is what it seems on the surface, and having good inquiry skills is fundamental to life.
This year, Lalor Secondary College saw the launch of its Inquiry program trial. This pilot project, co-ordinated by Ms Claire Delaney, saw Year 8 students have the opportunity to learn about and create practical solutions to problems they see around them.
The inquiry program uses the Whittlesea Tech School's innovation cycle, which scaffolds an inquiry process and assists students in developing a prototype. By participating in the program, students develop crucial and highly desirable 21st century skills such as critical thinking, creative thinking and collaboration.
The students are introduced to the inquiry process by completing the 'Foodlab' program, developed by Whittlesea Tech School. Students are presented with an industry problem and challenged to create new food products using mushroom stems, which are currently classified as a food waste. By understanding problems better through multiple perspectives, students can create products that people will want, such as new vegan mushroom burger patties and delicious mushroom chips.
Using their sharpened inquiry skills, the Lalor Secondary College Year 8 students continued their learning journey by exploring other topics of interest. In a short period of time, they have participated in ACMI workshops exploring the impact of games on culture and society and some of the issues around representation and accessibility in video games. Additional topics explored included sports, gender equality, food waste and a variety of others. Students were then given an opportunity to act and address some of the problems by developing a prototype solution.
Here are some of the identified challenges and ideas:
The challenge: Food items in fridge going past their due by date.
Student prototype solution: An app where people input the items in the fridge and it'll bring up possible meal recipes. The app would also store information on expiry dates and can send alerts when the food is about to go off to reduce waste.
The challenge: Lack of access to soccer coaching for aspiring young players.
Student prototype solution: Virtual reality coaching to improve soccer skills anywhere and anytime.
Students built their concepts at the Tech School to various stages and it was amazing to see the creativity and ingenuity of the students. Next year will see the launch of the stand-alone subject of Inquiry which will be rolled out to all Year 8 students at Lalor Secondary College. Students will take ownership of their learning by selecting a topic of interest to create meaningful solutions to problems they see around us.
"The Inquiry program in Year 8 is one of the ways that we strive to create engaging, real world curriculum for the benefits of our students," Ms Delaney said.
To learn more about Lalor Secondary College's Inquiry program, visit www.lalorsc.vic.edu.au