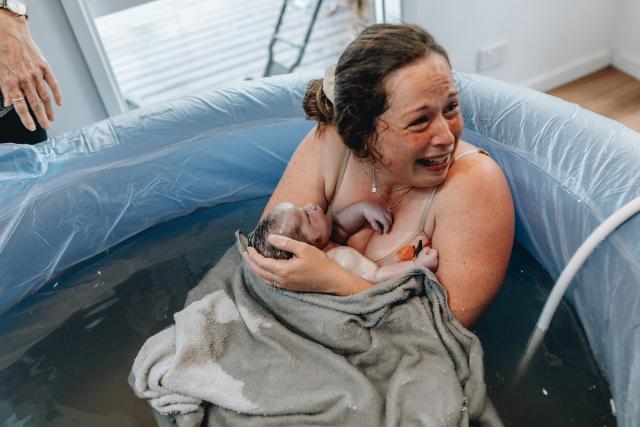 Melissa Meehan, AAP
A publicly-funded homebirth program is set to be introduced at Victoria's leading women's hospital.
While the initiative is only in the planning stages, a Victorian government spokesman confirmed it was expanding its public homebirth program to include three additional hospitals, including the Royal Women's Hospital in Melbourne.
The program already runs at Joan Kirner Women's and Children's Hospital in Sunshine and has previously been available at Casey Hospital in Berwick.
"It's so important that women have choice in the care they access," the government spokesman told AAP.
Currently, as many as 80 women give birth through the public program in Victoria each year.
The Royal Australian and New Zealand College of Obstetricians and Gynaecologists (RANZCOG) said it supported the expansion of the program.
"The home birth program is a positive step forward for women and their babies," a RANZCOG spokesperson said.
"Where it is appropriate and safe, having the choice of a planned home birth program provides women with shared decision making, which is an important factor in pregnancy care."
After having three homebirths herself, Farrah Panozza, 29, celebrated news that such births would be available to more women.
She welcomed a daughter into the world last week in Bellingen, NSW, unassisted, as her midwife did not make it in time.
Ms Panozza had previously given birth at her homes in Selby and Belgrave in Victoria's Dandenong Ranges.
"Giving birth in hospital was never an option for me," she told AAP.
"I feel that homebirthing opens more of a space for women and both parents to be in touch with that organic, innate body-driven process."
Ms Panozza said the relationship with her midwife was an important part of her homebirthing experience.
She said the midwives were her biggest source of education and spent time getting to know her and partner Joseph, and later their children.
"It allowed me to be left to it (focusing on the birth), because we'd already discussed what I consented to, or if I didn't want to be touched," she said.
"Because we'd already discussed what my intentions for the birth were, as well as my previous birth experiences and what I did and didn't want within my birth space.
"I feel that is really important leading into the experience of birth and is therefore so important to have a midwife who knows you well and can support you to achieve your birth vision."
National Association of Specialist Obstetricians and Gynaecologists president Gino Pecoraro said homebirths were uncommon in Australia with less than three per cent of all babies delivered at home.
In the US homebirths are also uncommon, accounting for 1.26 per cent of all births, according to a report released by the US Centers for Disease Control and Prevention's National Center for Health Statistics.
"At the moment there is no hard evidence to recommend one place of delivery over another for low-risk screened patients," Associate Professor Pecoraro said.
But he said it was important that hospitals undertaking homebirthing programs stuck to a strict criteria and fully informed patients of both the pros and cons.
He said it was also important to be aware of the availability of ambulances, and ramping at Emergency Departments if something did go wrong.