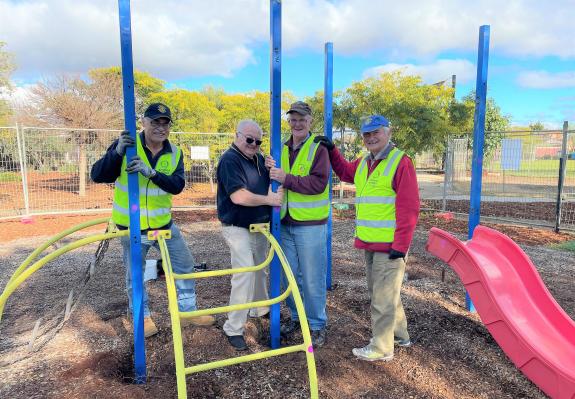 Three Wyndham playgrounds destined for landfill will bring joy to the children of Manila, thanks to Wyndham council and the Hoppers Crossing Rotary Club.
A Rotary International initiative, the Recycled Playgrounds Program, donates playgrounds earmarked for replacement in a First World nation to underprivileged countries.
Under the program, Hoppers Crossing Rotary Club members have dismantled playgrounds from Flemington Crescent Park in Wyndham Vale, and Powell Drive Park and Central Park in Hoppers Crossing, to ship to the Philippines.
Wyndham council will replace the play equipment at all three parks after it has been sent overseas.
When the playgrounds are installed at schools or parks in Manila, a plaque acknowledging Wyndham council's donation will be placed alongside them.
Wyndham's climate futures and environment portfolio holder, Cr Robert Szatkowski, said the Recycled Playgrounds Program was a great way to repurpose community assets.
"In the past, council would send old playground equipment to landfill," Cr Szatkowski said.
"This program allows these three Wyndham playgrounds to be utilised for another life cycle as well as saving on landfill and costs associated with their demolition.
"We all know how important it is for children to be outside and active, and we're thrilled that these playgrounds will bring a smile to the dials of young children in the Manila region."
Cr Szatkowski said the council hopes to donate more playgrounds to the Recycled Playgrounds Program in the future.