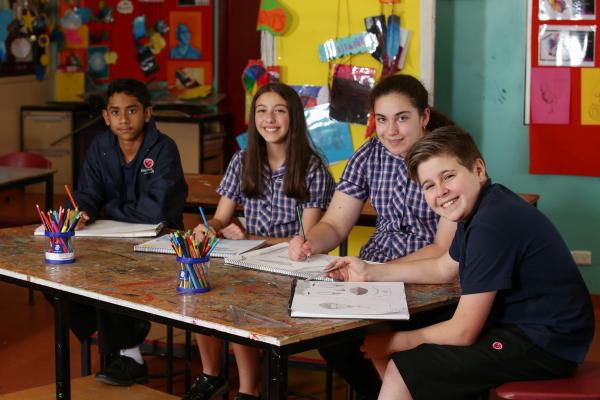 Copperfield College's mission is to 'empower every student to aspire and achieve,' with the key word being 'every'.
The college thrives under the values of Collaboration, Inclusiveness and Growth, and embraces all learners into the Copperfield family. With a focus on knowing that every student can learn, progress and create opportunities for themselves and others, Copperfield encourages its students by investing in people to provide wraparound support for each child.
With home group teachers, team leaders, campus leaders, campus principals, wellbeing staff, expert literacy, numeracy and EAL teachers, pathways staff and staff who support extracurricular activities, as well as expert classroom teachers.
Copperfield College student survey data reflects its success, with data being in the top quartile of the state for teacher-student relations, safety, not experiencing bullying, motivation and interest, and high expectations. Copperfield College offers a huge range of course options, with senior students given the choice of 37 VCE subjects and 33 VET subjects.
The school community's diversity is also a strength, with families coming from many different countries. Community Liaison staff work closely with families, providing translations and information sessions in community languages. This brings a richness and vibrancy to the college as community members live out the school's values every day.
Copperfield College also has a two-year scholarship program for students starting Year 7. There are three areas; Academic Excellence, Performing Arts and Leadership/Community Scholarships. Students who demonstrate excellence in their field are encouraged to apply as this is a wonderful opportunity to be supported in playing to their strengths. Information is available on the school's website.
Copperfield College's motto is 'one family, three homes.' Once students become part of the Copperfield family, they are nurtured until they realise their potential and leave the college as well rounded, caring citizens with a positive life pathway.
With three locations, Copperfield College has Years 7 to 10 campuses in Sydenham and Kings Park, and senior students have the choice of completing VCE, VET or VCAL at the Copperfield College Year 11 to 12 campus in Delahey.
For more information, visit www.copperfieldcollege.vic.edu.au or email copperfield.co@edumail.vic.gov.au